Our materials
All our materials are subject to strict certifications and environmental or health labels. Below you can read more about what our various labels mean for the value chain and you as a consumer.
Global Organic Textile Standard (GOTS)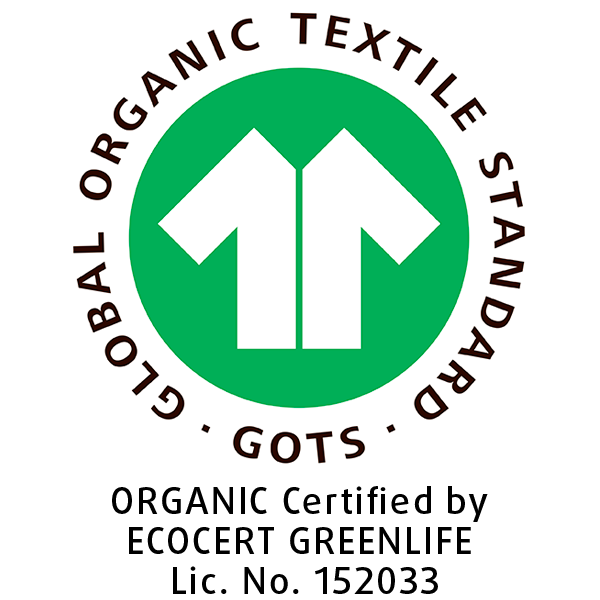 The GOTS label means that the material itself is certified organic, and that the strictest consideration for the environment has been taken in all other processes such as dyeing, knitting and sewing. GOTS also takes into account the working conditions of those who produce the T-shirts.
Did you know that if it only reads "organic cotton" without an attached ecolabel, the dyeing and treatment of the cotton can still be full of harmful chemicals
We use GOTS because we take responsibility for our environment and the people who produce our collections. GOTS is the strictest labelling scheme on the market today, and it also includes social criteria to ensure better working conditions for the people who produce the clothing.
GOTS ensures an environmentally-friendly approach from start to finish, and provides a credible and proven guarantee that you are purchasing the most environmentally-friendly, chemical-free clothing for your children.
You can choose to buy environmentally-friendly for a lot of reasons. We usually say that people buy it because:
1. they care for their children's and their own health. There are many chemicals in non-certified clothing, and it takes five washes before they are completely eliminated. Eco-labelled clothing also reduces the risk of allergy.
and/or because people
2. are concerned for nature, and about the chemicals we are releasing into it. And it's not only in the countries where the products are manufactured. When you simply wash the chemicals out in the washing machine, some of them end up in our streams and lakes.
By Green Cotton licensnumber:
GOTS Organic Certified by Ecocert Greenlife Lic. No. 152033
Organic Content Standard (OCS)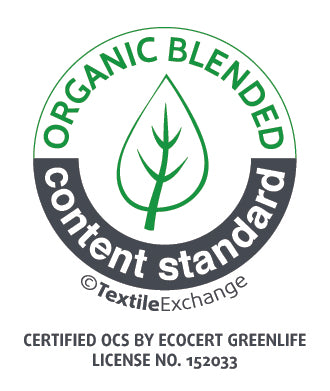 The Organic Content Standard verifies the presence and amount of organic material in a final product. It tracks the flow of raw material from the source to the final product, and allows for transparent, consistent and comprehensive independent evaluation and verification of organic material content claims on products.
The labelling of a products with OCS, requires the statement of the % of organic material with "Made with X% Organically Grown Material"
By Green Cotton licensnummer: 
certified by Ecocert Greenlife Lic. No. 152033
Global Recycled Standard (GRS)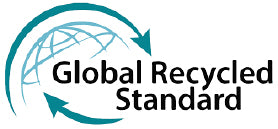 Products certified with the GRS mean that there is at least 50% recycled textile material in the end product. GRS certifies the production and sets requirements for good working conditions and the use of chemicals in the manufacture of the products.